Hello warriors!

In the lead up to the the varied faith-based and secular holidays at the end of December, we want to bring a festive flavour to our Facebook page and so need new images, ideally with a festive flavour and for each.
As with all our other Screenshot contests, we will provide you will a template (or if you do not have the skills to do it yourself, post an image and we will put it in the template for you).
For each date between 1 and 25 December, we have chosen a specific Land from Elenia as follows and your screenshot should have been taken in that Land though it could be from a dungeon, quest or crypt within that land e.g. on 3 December it is Illayr so you could post a screenshot from the Cobweb Dungeon in Illayr or on 9 December, Worlax you could post a screenshot from within the Mortoc Village Quest or from Worlax generally.
Na vanguarda dos feriados religiosos e seculares, no final de dezembro, queremos trazer um sabor festivo à nossa página do Facebook e assim precisamos de novas imagens, idealmente com um sabor festivo.
Como todos os nossos outros concursos de Screenshot, forneceremos um modelo/template (ou se você não tiver as habilidades para fazê-lo sozinho, poste uma imagem e vamos colocá-la no modelo para você)
Para cada data entre 1 e 25 de Dezembro, escolhemos um local específico de Elenia e sua Screenshot deve ser tirada neste local, podendo ser de uma dungeon, de uma missão ou de uma cripta dentro deste local, por ex. No dia 3 de dezembro o local é Illayr, então pode-se tirar screenshots da Cobweb Dungeon, ou no dia 09 de dezembro em Worlax, pode-se tirar screenshots dentro da Mortoc Village Quest ou de Worlax em geral.
All places and dates (see the spoiler):
We also want a Caption but we do not want it in your image, it should be in text below your screenshot - we will put it in the image if we think it is good enough to be a winner.
Terms are much the same as before:
only one image from one forum member in one day;
no Photoshopped-in extra images from outside the game - the screenshot must be what you saw in the game this time;
all images must be of a specific size :
-1200 pixels wide x 630 pixels high with enough 'clear space' around the key parts of the image to allow for all the decorations in the template that reduce the effective usable space in the centre to about 1000 px x 450 px.
This is so we can post these images directly into Facebook.
If you are competent with Gimp or Photoshop, you can download our Overlay PSD file here and then place your screenshot behind it.
The Overlay which is a PNG file will vary from day to day so look at each day for the right template.
We will post each day's competition as well in advance as we can so you can get your shots in on time but we will close the contest for a specific day at 18:00 GMT the day before, so we can choose a winner and then post it in the morning GMT on the day in question so e.g. the Contest for 2 December, Andynopolis will close at 18:00 GMT on 1 December.
Também queremos uma legenda, mas não a queremos na sua imagem, ela deve estar no texto abaixo do post - vamos colocá-la na imagem se decidirmos que ela é boa o suficiente para ser uma imagem vencedora.
Os termos são muito semelhantes aos anteriores:
Apenas uma imagem de um membro do fórum em um dia;

Nenhuma imagem extra de fora do jogo - a imagem deve ser o que você viu no jogo desta vez;

Todas as imagens devem ter um tamanho específico:
-1200 pixels de largura x 630 pixels de altura com espaço livre suficiente em torno das partes-chave da imagem para permitir que todas as decorações no modelo que reduzem o espaço útil eficaz no centro para cerca de 1000 px x 450 px.
Isto é para que possamos publicar essas imagens diretamente no Facebook.
Se você sabe usar o Gimp ou Photoshop, você pode baixar o nosso arquivo PSD Overlay aqui e, em seguida, coloque a screenshot atrás dele.
A sobreposição, que é um arquivo PNG, pode variar de um dia para o outro, portanto, observe cada dia o modelo certo.
Iremos publicar a competição de cada dia com a antecedência possível para que você possa fazer suas fotos no tempo, mas fecharemos o concurso para um dia específico às 18:00 GMT do dia anterior, para que possamos escolher um vencedor e depois publicar Na manhã GMT do dia em questão, por exemplo, O Concurso para 2 de Dezembro, o Andynopolis fechará às 18:00 GMT do dia 1 de Dezembro.
Prizes
1 : Every day we will chose at least ONE Winner after 18:00 GMT from the entries submitted and they will receive a prize of 45 Insignia, enough to buy a Card Album. We reserve the right to choose more than one winner if the calibre of entries is exceptional.
2 : All entrants will be eligible for a special Christmas Gift from Santa's Sack on 25 December and that gift may well vary in value depending upon how many days a player has entered into the spirit of the contests with the number of entries they have made up to a maximum of 20 days (we appreciate some days you might not be able to come up with an entry, but since you CAN enter for each day well in advance, you could in theory post all your entries in bulk as they appear in the Forum.). Gifts will be announced closer to 25 December.
3 : Grand Royal Christmas Raffle - For those dedicated people who have submitted entries for at least 20 days up to 18:00 GMT 24 December, they will be entered into a special Draw conducted through www.random.org and names will be listed along with their raffle number on 24 December. We will show screenshots of random.org's Draw Results and name raffle winners on 25 December. Prize(s) have yet to be determined but there will be one very valuable prize as first prize, so watch announcements as we add to the fun in the next 4 weeks.
So there is all to win, these screenshot events being just the first of a few games and contests we will be running for you during the month of December.
Prêmios:
1 : Todos os dias escolheremos pelo menos UM vencedor após 18:00 GMT das entradas enviadas e estes receberão um prêmio de 45 insígnias, o suficiente para comprar um álbum de cartas. Reservamo-nos o direito de escolher mais de um vencedor se o nível das participações for excepcional.
2: Todos os participantes serão elegíveis para um presente de Natal especial do Papai Noel em 25 de dezembro e esse presente pode variar em valor, dependendo de quantos dias um jogador entrou no espírito dos concursos com o número de entradas que eles compõem à um máximo de 20 dias (nós sabemos que nem todo dia você poderá participar, mas desde que você PODE participar para cada dia bem adiantado, você poderia em teoria postar todas suas entradas conforme os dias aparecem no Fórum.). Presentes serão anunciados próximo ao dia 25 de dezembro.
3: O Grande Sorteio de Natal - Para aqueles dedicados que tenham submetido entradas para pelo menos 20 dias até 18:00 GMT 24 de Dezembro, estes serão inscritos em um sorteio especial realizado através de
www.random.org
e nomes serão listados ao longo Com o seu número de rifa em 24 de Dezembro. Mostraremos screenshots dos Resultados de sorteio de random.org e nomearemos os vencedores de rifas em 25 de dezembro. O (s) prêmio (s) ainda não foram determinados, mas haverá um prêmio muito valioso como primeiro prêmio, então prestem atenção aos anúncios para a diversão que faremos nas próximas 4 semanas.
Portanto, há tudo para ganhar, esses eventos de screenshot é apenas o primeiro de alguns jogos e concursos que serão realizados para você durante o mês de dezembro.
So, without further ado, here is the template for 18 December and a sample to give you an idea of what we need from KiraQuest - but remember, put your caption BELOW the image and not inside the image please.
Template: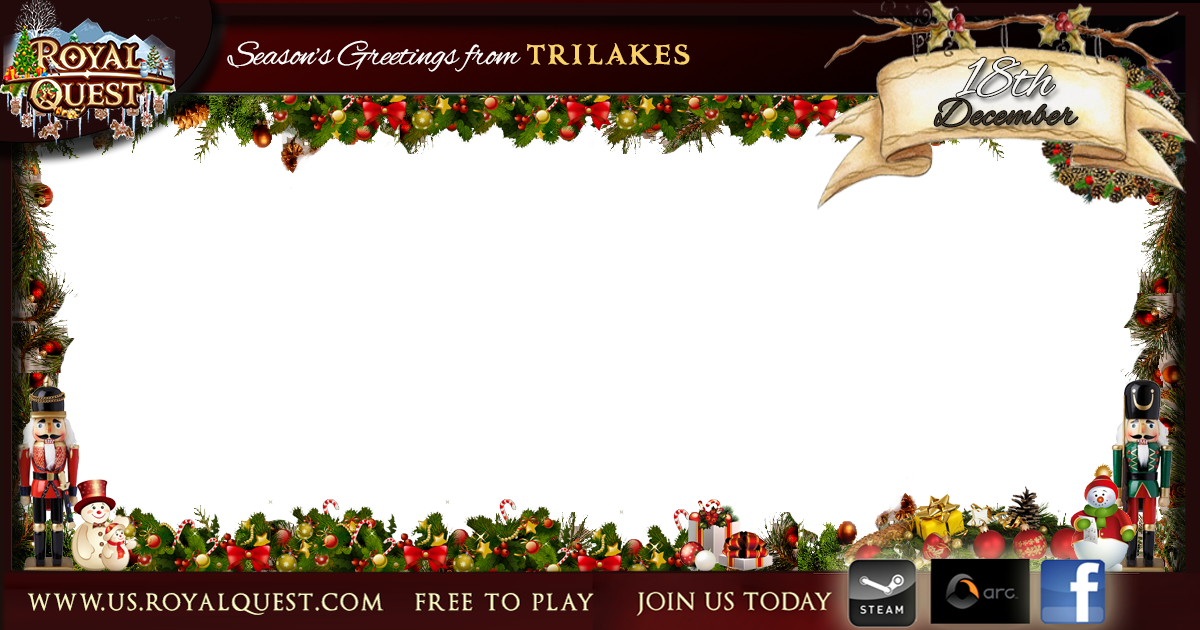 Sample: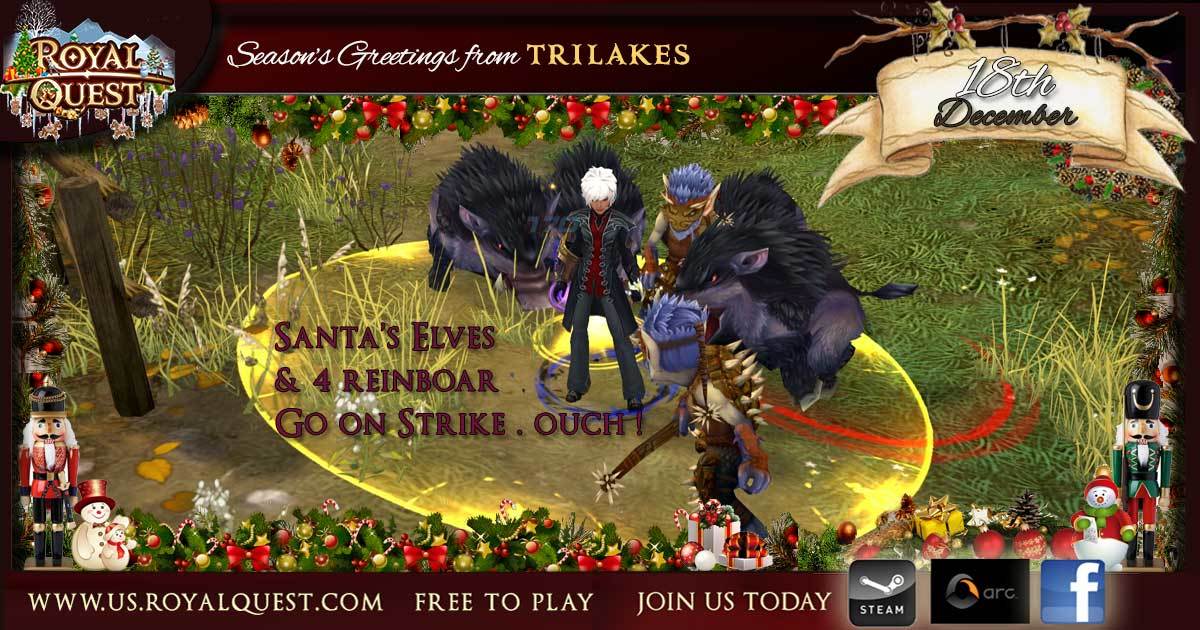 Goodluck!