Dear players!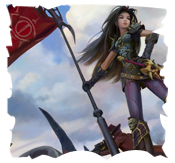 The long-awaited Part 2 of developers' plan to rework Dark Knights is introduced now for your consideration.
This time we would like to share with the direction for development of the class' talents.
Please mind that current places of any DK talents may be changed in the course of work. The final placement of talents is not known yet: right now we share only planned changes and fixes.
General directions:
The Mastery tree should give the Warrior choice between on-foot and mounted build development. In

whole

any

drastic

differences

are

not

planned

.

The Blood tree should be destined to the manipulation with Healing and Bleedings.

The Power tree should enhance Dark Knight's damage in a variety of ways or apply to his enemies statuses inflicting their dealt damage.

The Steel tree should decrease taken damage OR develop the concept of 'tank-reflector'.
Mastery

This talent tree is common for Warrior, Dark Knight and Crusader, therefore changes are minimal here or specific for a chosen class.
Deadly Lance - Using the Charge and Spear Throw skills will apply Immobilization instead of the Slowdown.
Blood
Bloodletting is planned to be changed.
Now: Whirlwind Blow, Piercing, Domination have a 50% chance to apply Bleeding x1.
Will be: Damage from Steel Spikes will inflict Bleeding too, with some chance.
Epidemic will be changed: the Dagger of Plague will infect not only the first target but enemies nearby with Bleeding effect.

Invigoration will restore 12% (instead of current 6%) health for every point of Fury lost out of combat or spent by Fury-consuming skills in combat.

Blood Lust will be totally changed: instead of increase Bloody Harvest's damage Dark Knight will restore health from any bleeding effects.

Bloody Armor will be changed: instead of prolong Bone Armor when using skills any getting of Bone Armor or Rampant Anger will restore 10% health of the character, but no more than once on 10 seconds.

Witch Hunter will not have activation time restriction anymore, but when taking a negative effect the character will restore 1 point of Fury and will get Might x1.

Seal of Nosferatu will give Vampirism for 15 seconds: restores health for 25% of direct damage taken, but no more than 200% with maximum health, with unlimited frequency and amount of healing while activated. Cooldown time of the skill will remain the same; the passive bous is not planned to be changed for now.
Might
Devastator will be changed: Anger and Earthquake skills will apply Contusion for the number of seconds equal to the number of spent Fury points.

Eye for an Eye skill will affect only Steel Spikes: if Dark Knight is under a control effect, Spikes reflect considerably more damage incoming.

Mercilessness will be changed: critical damage will increase with 20% in Rampant Anger status.

Endless Fury will be changed: Rampant Anger with this talent will not be limited with the duration time, only with the amount of Fury. More Energy will be consumed.

Victim ultimate talent: active skill will be replaced by Ice Strike active skill ( deals damage, freezes for 4 seconds, decreases defense with 50%. Passive bonus: Critical damage of Dark Knight in Rampant Anger increases with 0,5% for every 1% lost health.
Steel
Ominous Threat will be changed: now the talent will affect Power Seizure instead of changing Provocation effect. Using Power Seisure with this talent will create Provocation effect for 1 second on the target and will add the thread blast with 500% of Dark Knight's attack.

Skull Crusher will be changed for Dark Knight only. Using of Shield Blow and Earthquake skills will give a certain chance to apply Contusion for 3 seconds. Chances will be increased for every consumed point of Fury, every improvement level of the hammer, damage dealt by Dark Knight etc. Cooldown time after switching equipment - 10 seconds.

Other

World

:

cooldown

time

will

decrease

from

5

minutes

to

70

seconds

.

Also 20% health will be restored in this state.

Fossilisized Bones will be changed: the duration of the Bone Armor will be increased for 5 seconds when getting a control effect.

Banner bearer of Darkness will be changed: instead of increase damage dealt to enemies Dark Knight's party will take 15% less damage near the Banner of Darkness.

Ice Strike ultimate talent: active skill will be replaced by Victim. Passive bonus: damage taken decreases with 5%.
Naturally many of Dark Knight's skills will be changed too: we shall tell about these changes next time. Now we are waiting for your comments and opinions, and mind that any of decisions listed above may be repealed or reworked, among other things due to your feedback.