Greeting warriors!
Saudações Guerreiros!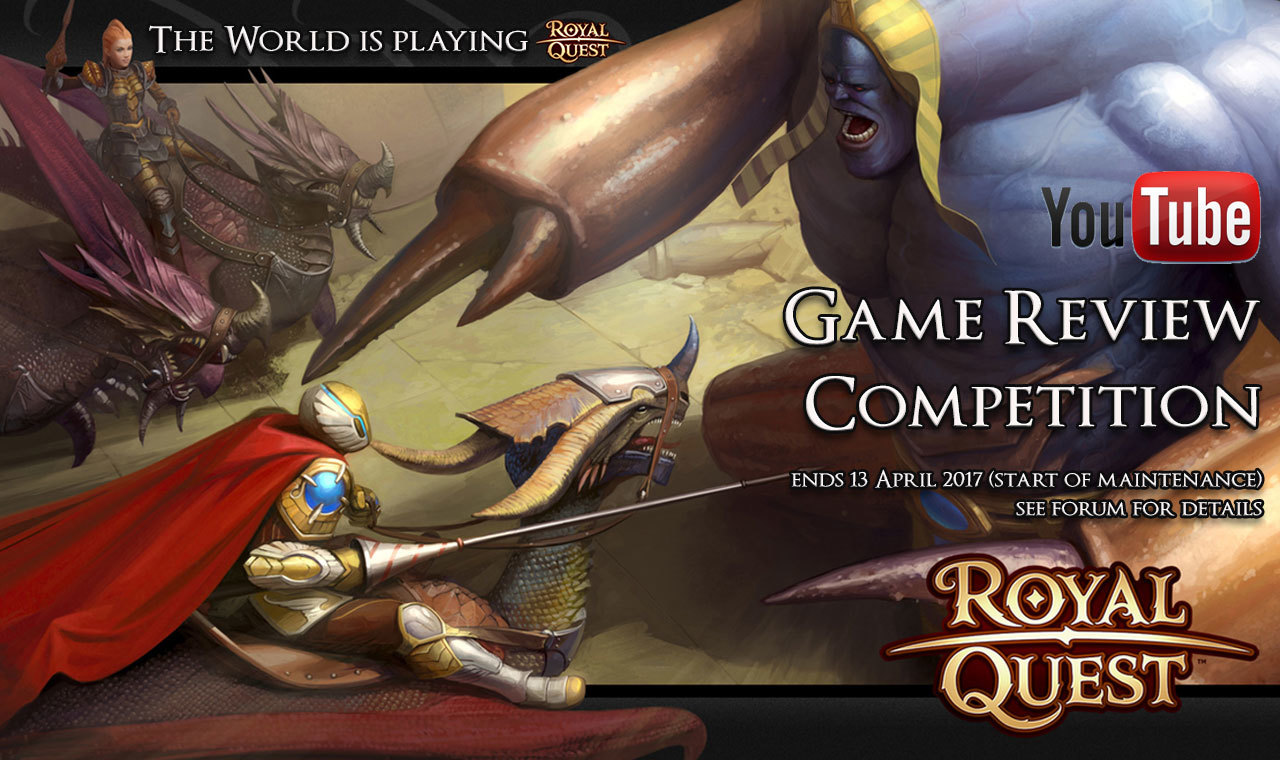 As you are no doubt aware 10th April is the official birthday of Royal Quest, the day when Open Beta Test of Royal Quest was officially launched in 2012. This year we shall be celebrating the 5 year anniversary of Aura's World! Anticipating this holiday, we - among other preparations - announce Join Us Today: Royal Quest Game Review Competition!
Sem dúvida todos sabem que 10 de Abril é o aniversário oficial do Royal Quest, dia em que o Beta Teste aberto foi oficialmente lançado em 2012. Este ano estamos comemorando 5 anos do mundo de Aura! Antecipando este dia de festa, Nós - entre outras preparações - anunciamos "Junte-se Hoje a Nós: Competição de Reviews do Royal Quest!"
How to take part in the contest:
Leave your application here in the comments to this thread. Add the full-length screenshot of your character in the Character Selection Window, so we can make a personal title screen for your video

Create your video review of Royal Quest and post it at YouTube. Your entry should obviously be positive and include narration about the game in total - not just 'my build', 'me at arena' or 'solo tanking Hugo' type
Make sure your video is no shorter than 2 minutes and no longer than 10 minutes and is to HD standard size of at least 1920x760 pixels
You can use English or any other language appropriate for you to talk, but remember to enable English subtitles. Also remember not to use any foul words in your video. Moderate yourself
All videos must start with a Opening Image like the example below which will be prepared specifically for you with your character name and image so each opening image will be unique to you, It should remain visible for 10 seconds before your Review starts proper. The same image needs to be used at the End of your Video again lasting for 10 seconds. - To 'order' your image just register your character name and post a HD image from this screen in the game and KiraQuest will edit out the background and create your unique Opening Image.
Como participar da competição:
Poste aqui para confirmar sua participação, adicione também uma screenshot (tela toda) do personagem na tela de seleção de personagens, para que possamos criar uma imagem de título para o seu vídeo.

Crie seu vídeo sobre uma análise do Royal Quest e poste no Youtube. Obviamente, a análise precisa ser positiva e deve ser sobre o jogo em geral - não apenas "está é minha build", "eu na arena" ou "meu personagem matando o Hugo".

Certifique-se de que seu vídeo não tenha menos de 2 minutos e não mais do que 10 minutos de duração, e que também esteja no formato padrão HD ou pelo menos 1920x760 pixels.
Você pode falar em inglês ou naa linguagem que quiser no vídeo, mas lembre-se de habilitar legendas em inglês. Lembre-se também de não usar linguagem inapropriada, comporte-se.
Todos os vídeos devem iniciar com uma imagem de entrada como o exemplo abaixo, que será criada especialmente para o seu personagem, fazendo com que cada uma seja única. Esta imagem deve durar 10 segundos antes que o vídeo comece. Para obter a imagem basta apenas postar o nome do seu personagem e uma screenshot em HD do seu personagem no jogo, e a KiraQuest

vai editar o fundo para que seja criada sua imagem de entrada única.
EXAMPLE
this is the sort of image we want of your character : https://gyazo.com/f1...aeecc0a030df464
We shall remove the background put it here with your character name below it, so it will look like this:
EXEMPLO
Este é o tipo de imagem que queremos para o seu personagem: https://gyazo.com/f1...aeecc0a030df464
Vamos remover o fundo e postar aqui com o nome do seu personagem abaixo, então vai ficar parecido com isso:
Post the YouTube link to your video in your comment to this thread
Poste o link do seu vídeo no Youtube aqui neste tópico.
The best video review will be awarded with Royal Blessing x30 and 500 Reales.
Runners up will get consequently Royal Blessing x14 and 300 Reales and Royal Blessing x7 and 100 Reales.
As usual we reserve the right for distributing other special rewards.
The contest will go until 13th April, Thursday (meaning to end before scheduled maintenance)
O melhor vídeo receberá Royal Blessing x30 e 500 reales.
Os demais participantes vão ganhar consequentemente Royal Blessing x14 e 300 reales, e Royal Blessing x7 e 100 reales.
Como sempre, reservamos o direito de distribuir prêmios especiais.
A competição acontecerá até o dia 13 de Abril, Quinta-Feria (acabará antes da manutenção ).
Playing Royal Quest? Tell the world about Royal Quest!
Jogando Royal Quest? Fale sobre Royal Quest para o mundo.