Every year the whole kingdom of Elenia celebrates Warrior's Day in honor of General Maximus and his amazing victory over the Undead Army of Ngalu, the Lich Lord that cost General Maximus his life.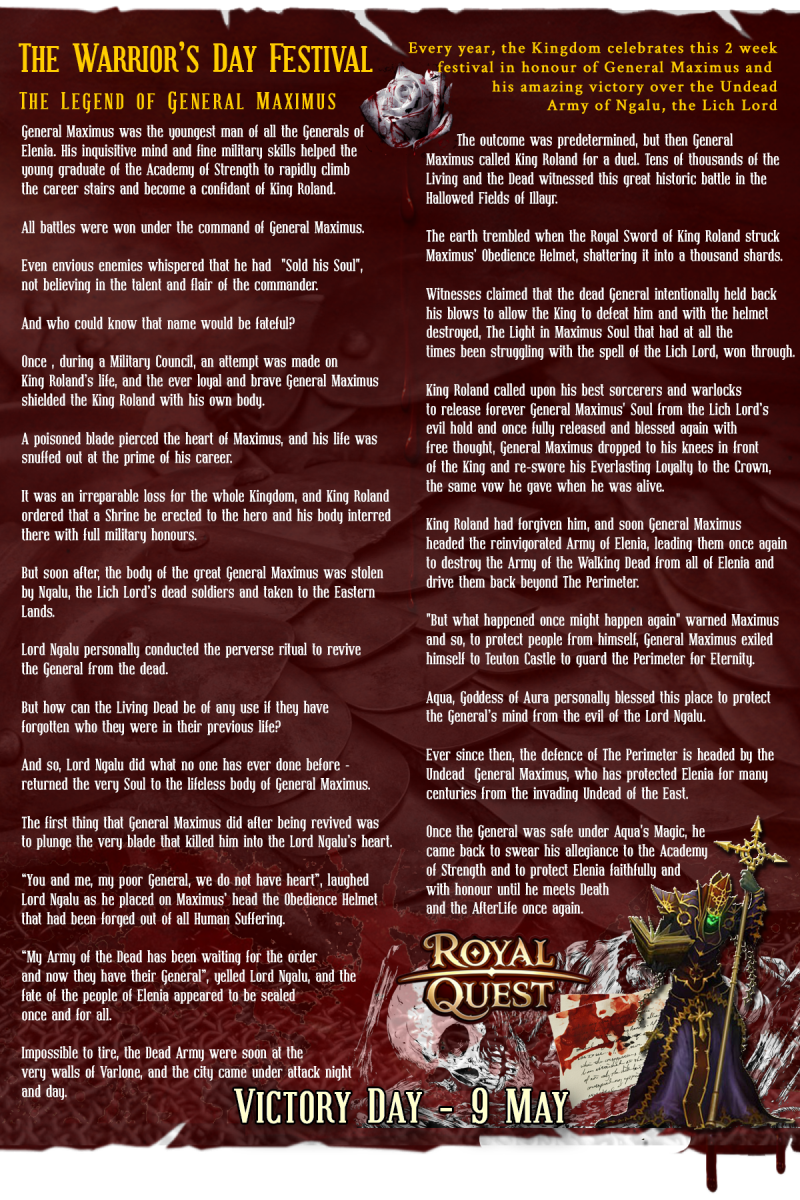 Starting from May 4 and up to May 18 (from maintenance to maintenance) the adventurers of Aura can gain from the worldwide monsters Guard's Emblems that allow players to become a Guard for 2-3 minutes.
At the same time when you kill the monsters it can occasionally summon the Undead monsters - Ghosts of War. They drop Guard's Emblems too but killing them in the Guard form allows you to get Military Tokens.

Collect 100 Military Tokens and use them to receive a Warlord's Honorary Badge which gives the ability to use the Guard form without any time limits.
Ngalu's Revenge
Also be aware that Ngalu the Lich Lord being enraged by extermination of his Undead hordes has designed hideous revenge! He is sending his most powerful and dangerous servants to devastate the reaches of Elenia!
Ngalu's minions, five event bosses, will spawn in the game in the course of the event:
Baron Logart's Island: Fire Irex
Arcon: Dark Morius
Eltane: Cardigan's Courier
Dead City: Unholy Rebel
Teuton: General Hrungnir
All characters coming close to bosses will be transformed in a special Guard form (4 types of Guards, every with 4 slightly different skills).
Everyone who took part in the battle, dealing at least one hit to the enemy and remaining alive at the moment of boss' death will get Trophy -a unique item worth keeping for the future. Hitting the boss you will get a special buff - evidence you are protecting Elenia from a horrible creature. Remember that you are counted as taking part in the battle as long as you have this buff! Mind also that you should have space in your backpack, the Loot tab, to obtain your Trophy.
Reward chests will not drop after the victory anymore. To get the reward you should take a quest to kill a boss.
Mentioned quests are given by NPC Coworker Luther in Varlone, near the Message Board. All these quests are dailies, available from 20 level.
After the quest is completed, go to the Secret Office to obtain your reward.
Skills of bosses have been partly reworked.
General Hrungnir does not apply Immobilization anymore.
You are now warned. To arms! Defeat Ngalu's World Boss Minions !