Greetings warriors!

We want your Epic Screenshots Up Close and Personal with Mounts - any Mounts you have.
We are looking for really awesome Up Close Shots that show the mounts in their full glory and to the highest resolution so we can create a magnificient Mount Album on Facebook and Pinterest.
All we need you to do is to post 3 images
Main Picture of you on your mount in a standing or moving stance

Side Picture of you on your mount in a resting position (top right in example.)

Image of the Mount Specification - (this can be part of your second image if you like).

Short Video of a mount moving (optional)
All you do is post the 2/3 images and we will do the rest. Ideally your images should be unedited 1920x1080 without the interface (Alt+Z) and with the Game Zoom on maximum or close to maximum.
Every set of images approved will get 20 Insignia of Distinction for you.

Every short video approved will bring you extra 40 Insignia of Distinction.

If you have more than one mount at your characters, you may present more than one mount. We shall need a lot of images to choose the best.
If we shall have enough of images for any specified mount we post an extra announcement about it, so pay attention.
If your images are approved then we will create images for Facebook, Twitter and Pinterest that you can use on your own social media pages.
That's how your images will look in Facebook or Twitter, for example: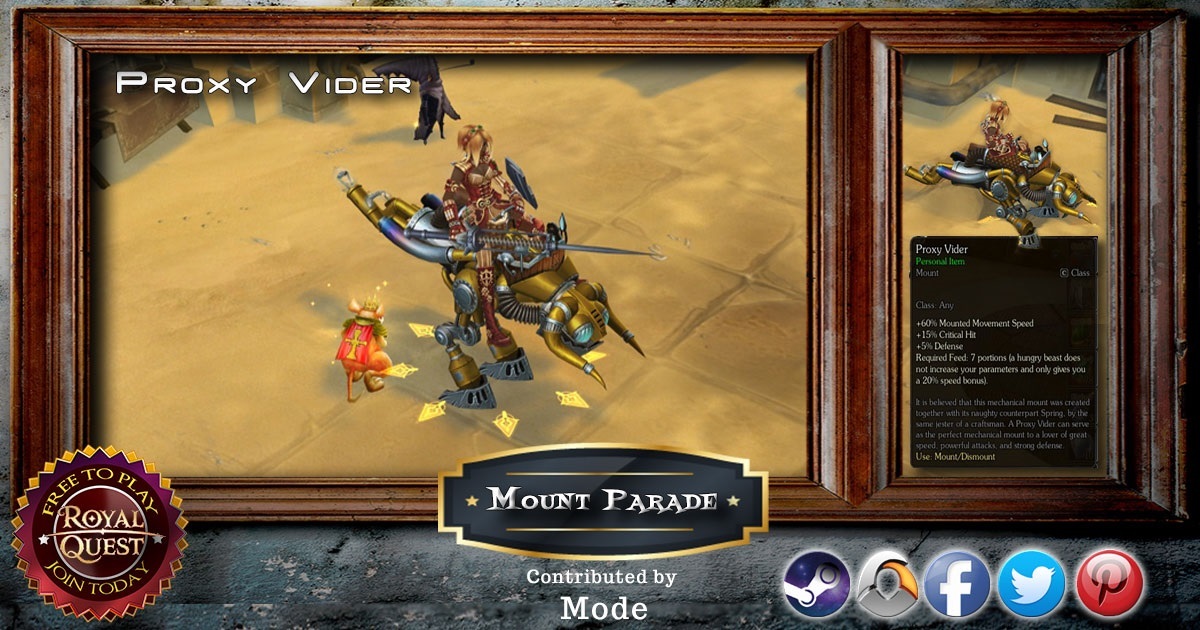 So set your hands to the task and join our Mount Parade!