Horror broke free again !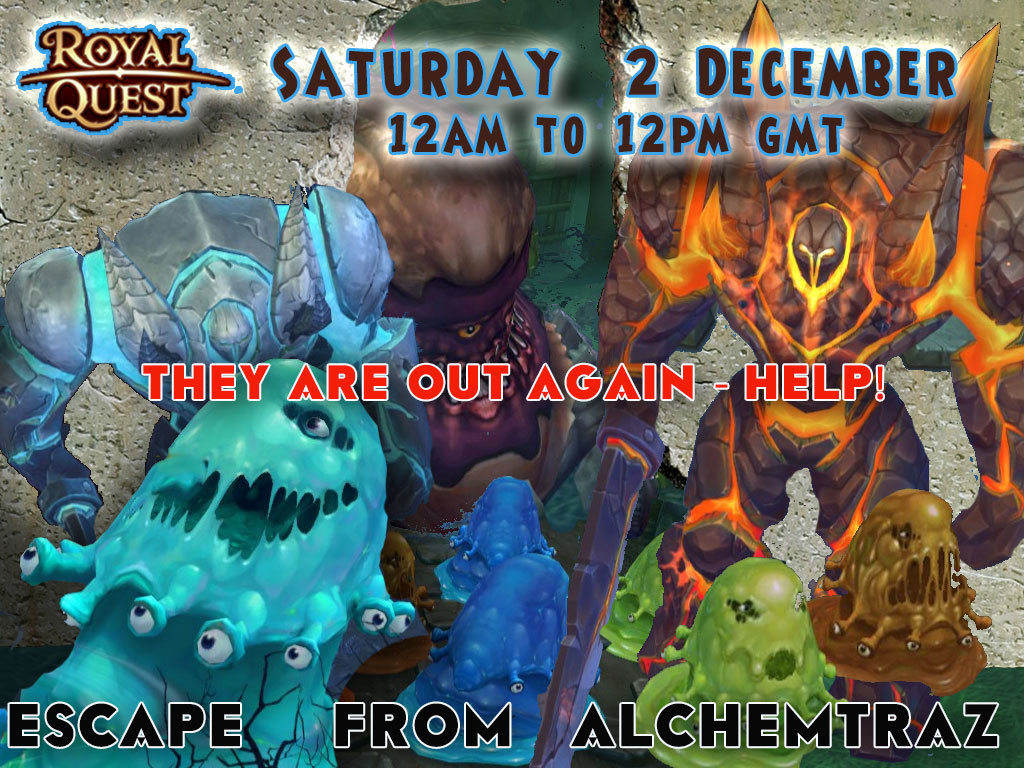 Deep within the bowels of the Mistgan Alchemical Creature Labs, unbeknown to us, Blind Loker and his slavishly loyal assistants, some only half human have been under a spell of a new clan of Black Alchemists who have been plotting to overthrow King Roland and the good people of Varlone with more fiendish plots.
These Black Alchemists persuaded Loker under the promise of him getting back his sight, to attempt to modify monsters from the Black Caves to enhance their intelligence as well as their belligerance - a dangerous mix you might say.
Well, the secret research team had the very highest levels of security in place in what Loker called Alchemtraz - but looks like even Alchemtraz is not completely secure and safe !
Last night a Fire Achyl put to some especially intricate experiments managed to get the key of his cell and broke out, taking a clutch of other hideous inmates with him - Achyls, Flykons and even Devourers.
They have escaped into the gullies, culverts and underground caves leading to all parts of Elenia and we fear they will surface from unused buildings, waterfall covered cave entrances and locked hatches all over the place !
So, your task is to find these monsters, kill them and take a screenshot of their killed carcass and the proof of kill in your Chat log. All your efforts will be rewarded !
We do have some basic tracking devices on these monsters and it seems probable that the weakest of them will surface in training areas, but it could be almost anywhere.
So here is more details:
Next 12 hours, up to 23.59 GMT 2 December (dailies reset) look for Achyls, Devourers and Flykons at any other common map (excluding Varlone, Trials and PVP locations).
Kill the monster and make screenshot with its carcass and/or battle log in your chat;

Post the screenshot in your entry to this thread and add the name of the character who killed the monster;

Don't try to use summoning seals ! Remember that we are able to recognize cheating. Big Brother is watching you !
REWARDS:
Every monster killed solo will be awarded with 25 Insignia of Distinction.
If you kill a monster in the party, every party member gets 15 Insignia of Distinction for every killing.
Note that the party should be consisted of 4 players maximum.
The screenshot of the party killing should be posted by the party leader - with adding of all other party members' names.
Our sensors have registered 50 runaways for now but we can't guarantee there wil not be a new breach. Kill'em all !
Good hunting!