So, here we are again, approaching the end of 2017 and so it is time to give you all the chance of entering your screenshots together with a Witty secular Christmas/Seasonal Caption (in English) for our consideration.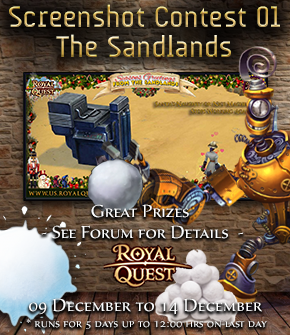 In this Contest, we want Screenshots and Captions where the image is ONLY from The Sandlands - Andynopolis, Mara Desert, Moonlight Oasis and Macdar or any buildings or structures in those areas e.g. The Pyramid, Prince of Mara Crypt.
This contest runs from 12:00hrs GMT on Saturday 9 December to 12:00hrs GMT on Thursday 14 December. Another Screenshot Contest will start tomorrow for another number of Game Zones or Class of Monster, so watch out for details.
Contest Terms are much the same as before:
only one image from one forum member in one day (so you can submit up to 5 shots in total per contest);
Your Image should also have a Seasonal-themed Caption in English, put just below your image in text and should ideally be no more than 20 words long - shorter captions will be considered best. See the example(s) below;

no Photoshopped-in extra images from outside the game - the screenshot must be what you saw in the game;

use Alt+Z hotkey to hide the game interface - we don't want to see the game interface;

No need to add to the template - we do that for the winner or winners

all images must be of a specific size :
Minimum size of 1200 pixels wide x 630 pixels high with enough 'clear space' around the key parts of the image to allow for all the decorations in the template that reduce the effective usable space in the centre to about 1000 px x 450 px. Bigger images are even better e.g. 1920x1080
This is so we can post these images directly into Facebook in a professional Template format.
We will look through all the entries and those players that meet the above standards and rules and Kira or Enya will edit your post and add either an Approved or Not Approved to your post as a note.
Bearing in mind that not all of our players have English as their first language, Kira may choose to edit your Caption to make it clearer. If you are not sure your English caption is not quite right, have an attempt at a Caption ans then explain as best you can below it, what you wished to say (in English please) and Kira will try to 'channel' your inner thoughts to produce an improved suggested Caption ! Captions should be funny and relevant to the Royal Quest game but should not contain any rude words or suggestive language since winners' entries get posted to Facebook, Twitter and other social media channels, so please keep it Clean!
1 : Prizes
And the end of the FIVE days this contest runs, we will choose at least one winner who will win 45 Insignia.
2 : Prizes for everyone!
Each forum entrant will win ONE Winter Festival Box per Approved Entry - so, if you enter one Approved Image & Caption every day, you will get five Winter Festival Boxes at the end of this Contest.
3 : Grand All-Prize Lottery - All approved entrants will take part in it after the end of the contest - one entry per person per Contest except Contest Winners who will get two entries. The Lottery will be a New Year 2018 one and we will produce a list of those forum members who qualify and how many entries they will be allowed.
4 : Grand Winner of All Winners Final Prizes

After all the Screenshots Contests have ended, we will choose 3 Winners of Winners who will get the following prizes in addition to their Individual Contest Winnings. To be an overall winner, you must have won at least one individual Contest and provided evidence that you have posted your Final Templated Image on your Facebook Page (or alternative social media account) and got at least one Share or Like.
FIRST - Royal Blessing x14, 350 Insignia of Distinction, one Winter Costume and one Snow Crock for any one chosen character

SECOND - Royal Blessing x7, 250 Insignia of Distinction

and a Winter Costume or a Snow Crock for any one chosen character

THIRD - Royal Blessing x3, 150 Insignia of Distinction

and a Winter Costume or a Snow Crock for any one chosen character
We reserve the right to give extra rewards for some special entries.
Here is the sample of how your contribution should look - made by KiraQuest:
Image: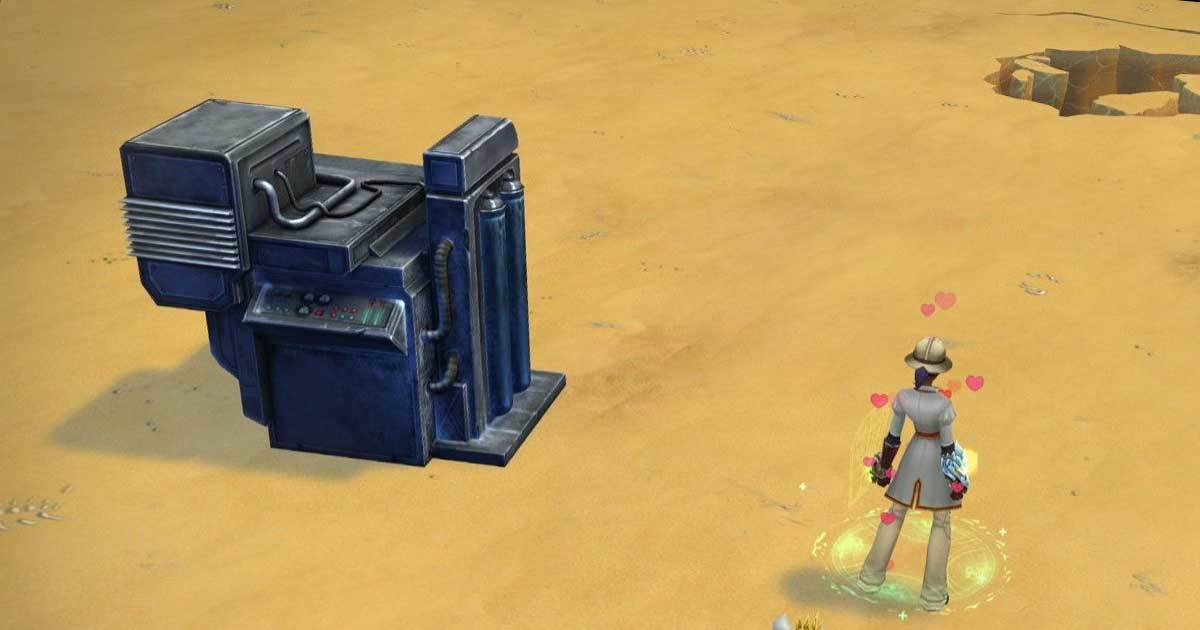 Seasonal Caption : Santa's Naughty or Nice Machine Stops Working Again !
If you are a Winner, we will put your image and caption into the final artwork for use in Facebook, Twitter and other Social Media and we would be grateful you can also add that Templated image to your own Social Media feeds to help us get Royal Quest better known please.

Example of a Winning Artwork :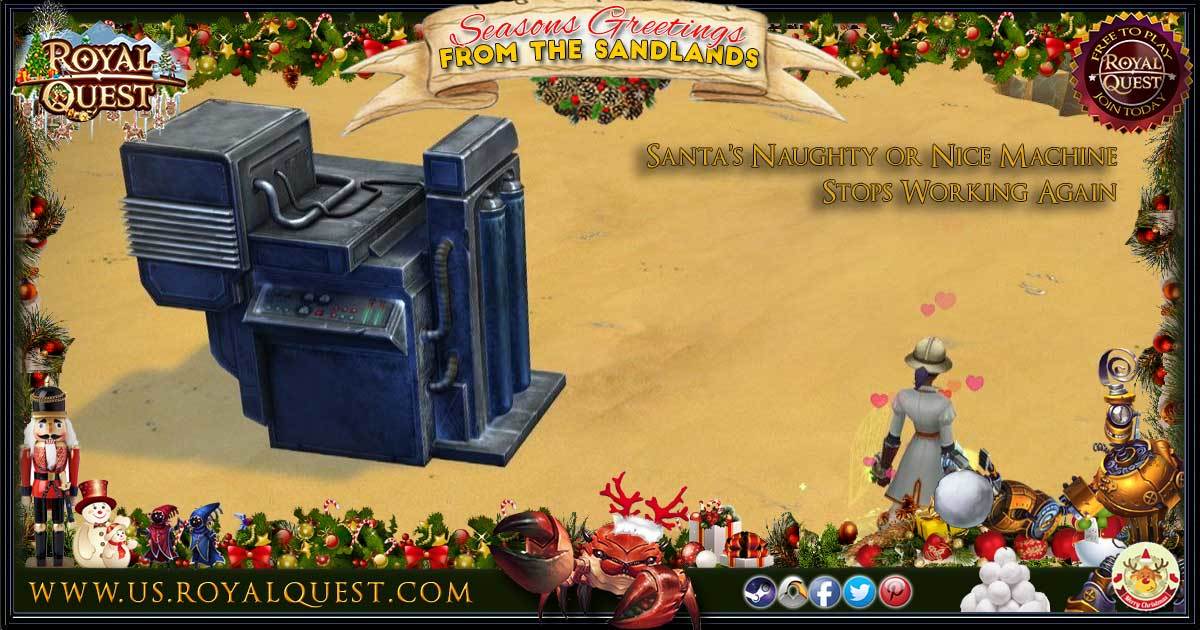 another finished Artwork Example: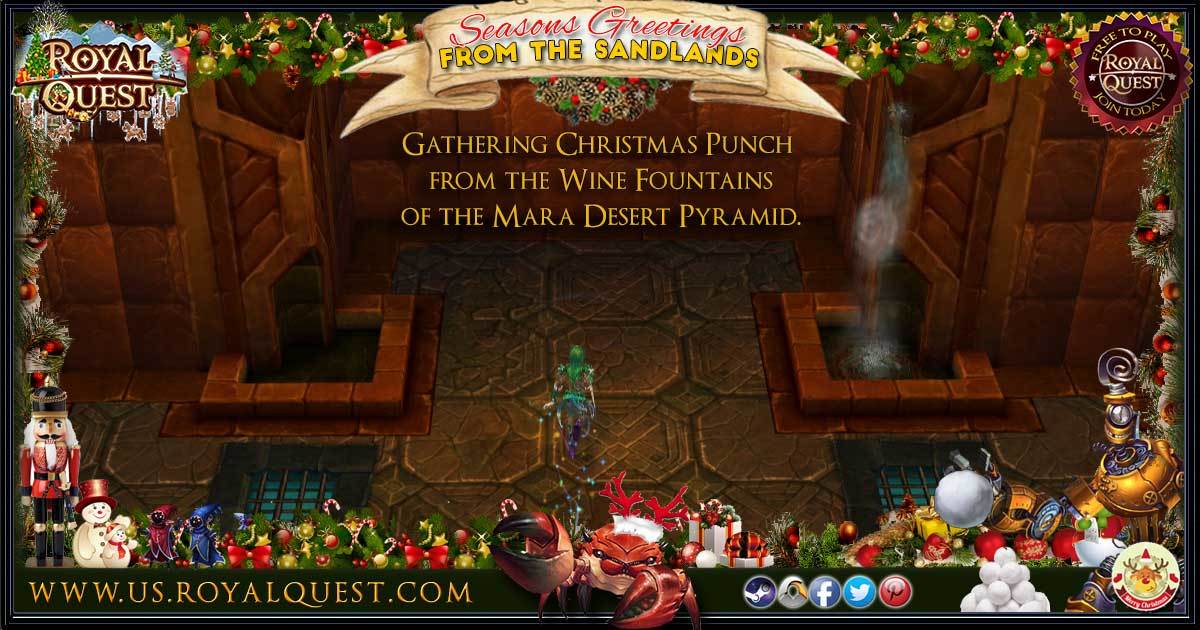 Good luck
Kira Quest
PS: If you do not know how to take screenshots or prepare them for linking to this Forum, please refer to the How To topic at the TOP of this Section.
Since I wrote that topic, I have found using Gyazo (www.gyazo.com) for image sharing to be the best and that is what Enya and me use to post our images here.