The North is the harsh land where no foot may tread. Elenian map makers mean their own feet of course. Contrary to their opinion, the "icy wastes" are quite populated, and weird monsters or reckless adventurers are not the only inhabitants of The North. There are also local human inhabitants - Alaites.
Alaite dwelling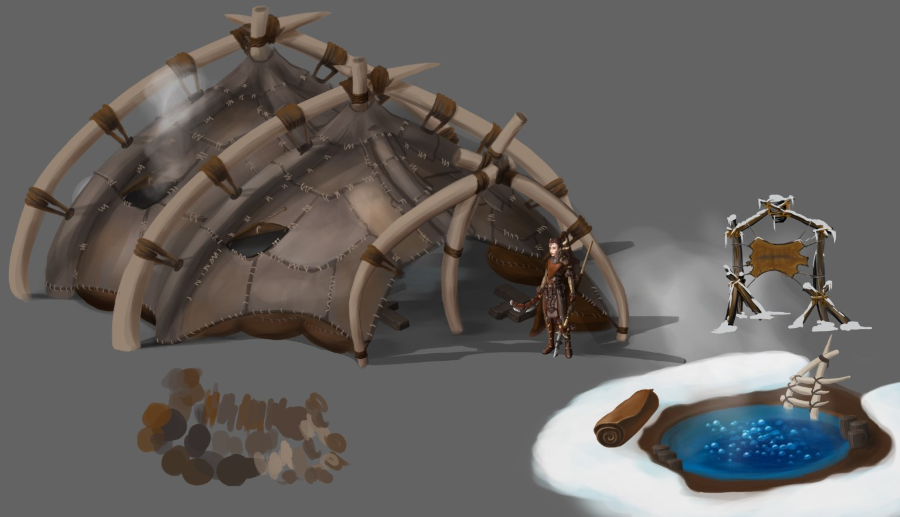 They had lived in The North for ages, and no one remembers where they came from. Alaites call their land Alatika. The name has both historical and religious origin.
The Legend of the Star
Long, long ago native humans of the North lead a rough and primitive life. Their major source of the means of subsistence were local animals: meat for eating, bones for making weapons and instruments, skin and fur for clothes. Even their dwellings were constructed in animal skin and bones - of larger animals, of course. Enemies pressed them up forcing to leave more livable lands. After so many years of wondering they had forgotten even their original name.
Alaite shaman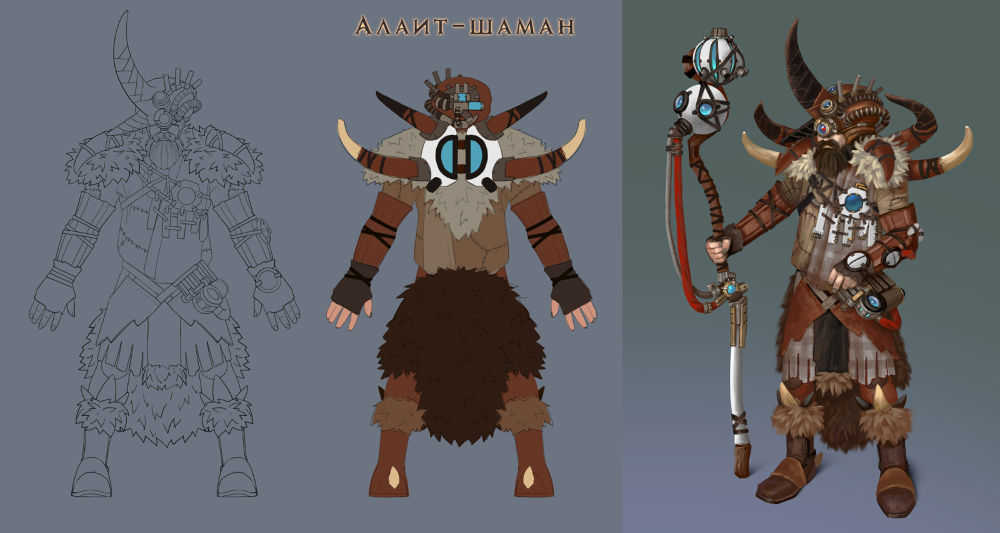 In spite of all severities, Northern people were distinguished by dignity and devotion. They loved Aura and served her like nobody else - and the Goddess decided to award their fervent loyalty. One night she took a star from the sky and sent it down, to her beloved children. There was a tremendous noise, and the star flared before to fall on the ground: night became as bright as a day, and the snow melted away around the place of falling. Everyone got frightened to death at first. Shamans prayed Aura for ten days, asked her advice and her protection - but the Goddess kept silence. It has become clear that Aura put them on trial. Then the best warriors took their beast weapons and set out on a march. The star was so heavy that the place where it fell turned into a deep pit. Warriors descended full of apprehension - but no peril threatened them. On the contrary, Aura sent her children magical gifts - a lot of gifts.
Every warrior took a gift and carried back to his people. Aura's gifts helped shamans to perform many miracles: to protect their land from orcs and hideous icy beasts, to warm people in cold winter, to strengthen their dwellings and to brighten dark nights. People's life has greatly improved.
To express their gratitude shamans called the Northern lands Alatika - "Fallen star" in their native language, "alati" (star) and "ka" (fall) - and Northern people Alaites. They have the same name up to now. Wealth, obtained miraculously, haven't changed or corrupted Alaites' nature: they worship Aura and honour their old traditions, as before, live in harmony with wildlife and help any stranger humbly requesting help.
Alaite woman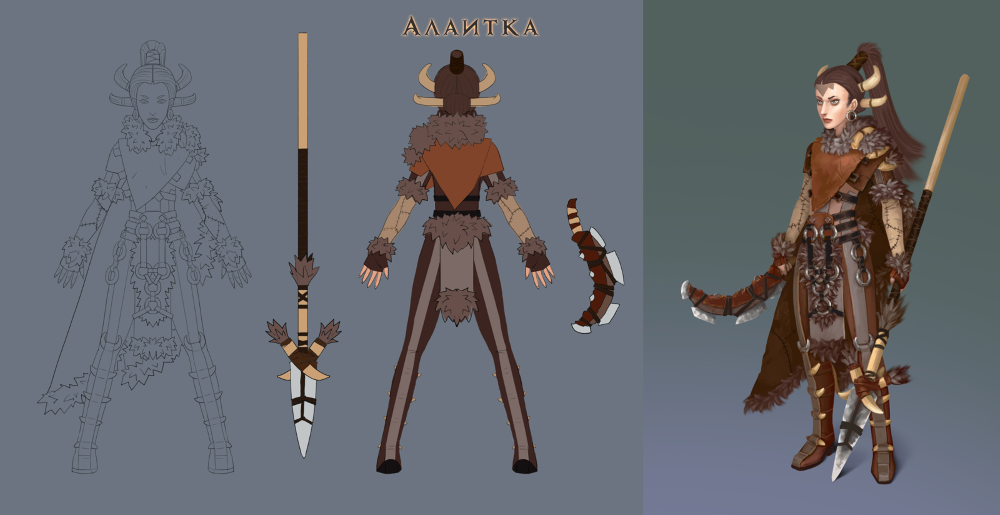 Alaites nowadays

The place where the star fell long ago has a mystical power. The Temple of Aura Gifts where anyone can pray to the Goddess has been raised in the very center of it, and the Alaite settlement with its daily commotion is placed somewhat apart.
Alaites are very devoted to their harsh homeland and almost never travel to the south. They spend many days in the open sea and hunt in the wild for weeks but always come back to their sacred place. They serve Aura but also worship their ancestors' spirits, and they are extremely superstitious.
In spite of many wars in the past Alaites are not warlike. They allow foreigners to come to their land and to trade.Currently Alaites work together with Aranta and even permit to examine their sacred objects - Aura's gifts. Arantians have already learned much due to this cooperation.
There is no peace treaty between Alaites and Orcs - but no open war too. These two nations are like unfriendly neighbours disdaining one another, and skirmishes take place here and there.