​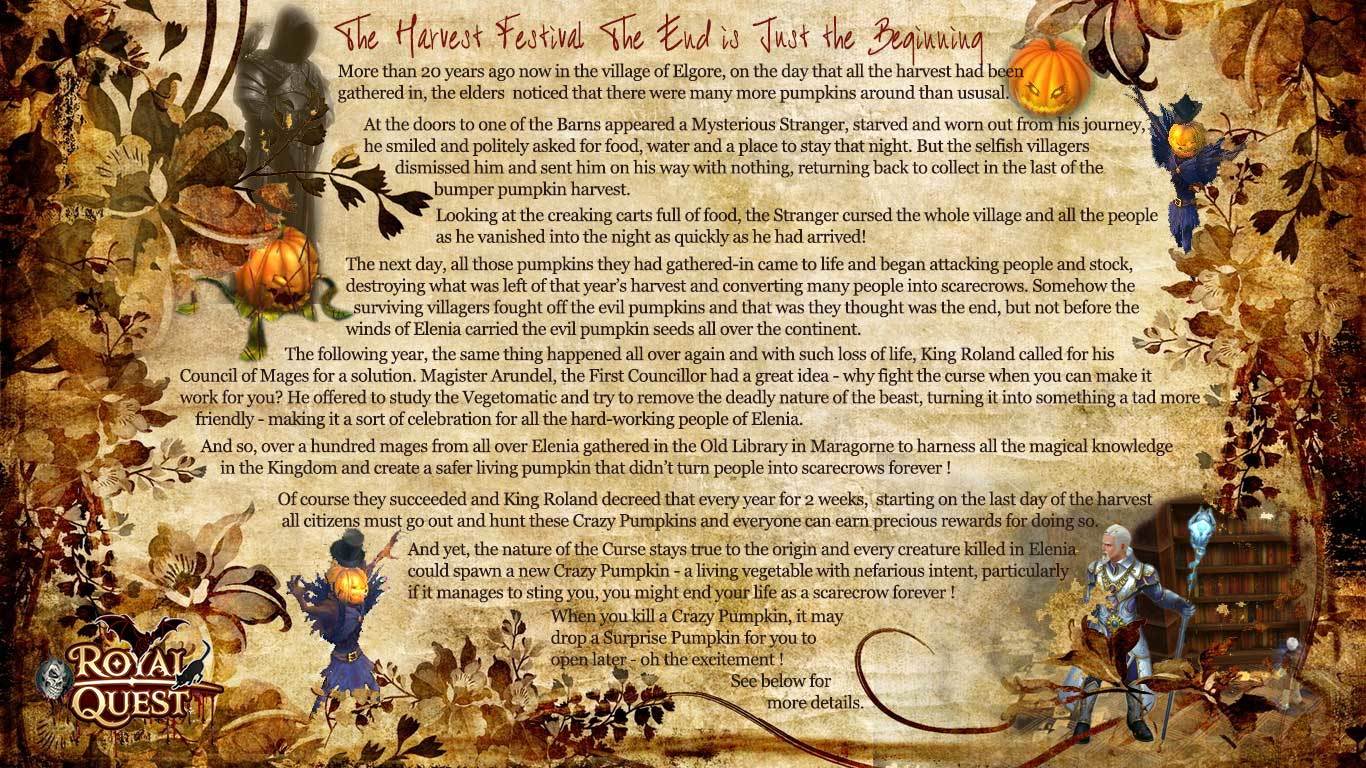 Years went by and gradually the Pumpkin Curse transformed into a much safer Pumpkin Craze. Seeing all the fun of the Crazy Pumpkins Hun,t His Majesty King Roland decided to restore and expand the traditional Harvest Festival. The Last weeks of this holiday are featured now with a grand Harvest Fair where every citizen of Elenia can buy festive pumpkin sweets - or even craft them from special recipes created by Chef Marin himself. So taste the Harvest delicacies, treat your friends and - hunt the pumpkins!

When you kill monsters in the game, they can spawn a Crazy Pumpkin, which has some skills, but does not attack. The reward for killing this critter is a Surprise Pumpkin reward.

A Surprise Pumpkin may contain:
Another Surprise Pumpkin

Pumpkin Seeds (personal item)

Pumpkin Fireworks

Aqua's Crystal

Pumpkin Lemonade

Pumpkin Pie

Fortune Cookie

Lil' Pumpkin Pet

Recipe of a Festive Hat (tradable)
Every 100 Pumpkin Seeds can be turned into unique festive hat - just use them in a recipe adding some other ingredients! There are 4 hats in total. All hats are personal and cannot be traded.


And here is a treat with no tricks! Promo code gift for everyone who celebrates the Harvest Festival in Elenia!

RQ2V-DN6N3-KRTAT-IDGSI-QXF


Activate the promo code at the main page of our website/My Account: https://us.royalquest.com/account/
The gift includes:


Royal Blessing x7
Pumpkin Pie x20
Pumpkin Fireworks x20
Four-Leaf Clover x10


All items are bound to account.

Attention: Items will be delivered to golden chest in Character Selection Window!

Please mind that the promo code will be valid up to 30 November 2019, so remember to redeem it in time.


Have fun on the Harvest Festival and enjoy the game!


Event ends at 7th November.