Citizens of Elenia!

Every year, Snow Island emerges above the northern lands to proclaim the beginning of the Snow Festival. Now the festival does not require special invitations – any maiden in Varlone can send any loyal subject to the magic island. Anyone willing can get boxes of gifts every day and enjoy treats at the festive table. Bring Christmas Ornaments to decorate the island and have a blast with everyone!
The holiday bustle is underway everywhere in the kingdom: Christmas Trees are up, people are cooking dishes for the feast table, and amusement rides and the Beast Show are opening on Snow Island. An extra pair of hands would be helpful anywhere.
Unfortunately, Snow Island isn't the only thing that has arrived. A more ominous phenomenon has come, too. There are rumours of a giant iceberg that has come to the shores of Aloha, an unusual one, inhabited by weird monsters. All experienced warriors are requested to do their utmost to help the Coast Guard of the northern region and resolve this potential crisis! Fight malicious Frosties and Konung Windswall, their warlold!
Killing monsters in the course of the Snow Festival you will drop unusual items - Christmas Ornaments, and your actions will inevitably attract Fire Gobblers - greedy evil creatures eager to steal Christmas Ornaments and spoil the festival. Killing Fire Gobblers you will drop much more Christmas Ornaments (stolen of course)
Maiden Lola on Snow Island will exchange your Christmas Ornaments for gift boxes and other festive goods:
30 Christmas Ornaments - 1 Box;

100 Christmas Ornaments - Snowballs

300 Christmas Ornaments – Seal of the Winter Guardian

300 Christmas Ornaments - 10 Boxes;

600 Christmas Ornaments - 20 Boxes;

600 Christmas Ornaments –

Card of Winter

700 Christmas Ornaments - Winter Hat;

201

9

Christmas Ornaments - Icicle;

2020 Christmas Ornaments – Snow Crock
Lola has a new gift and a new challenge for you:
Bring 100,000 Christmas Ornaments to get Baublebeus, the new festive pet!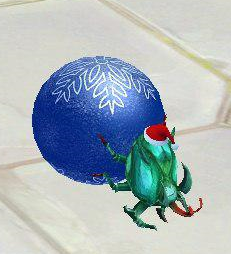 Gift Boxes may randomly drop:
Icicle pet, a living piece of ice, your jolly companion and the symbol of the Winter Festival
The Ice Steps decoration, a footprint of Winter itself.
The Seal of the Winter Guardian summons a snow creature to your aid to protect you from enemies and the cold for the next 2 minutes.
The Snow Crock is an amazing mount that will always remind you of this joyful holiday.
The Icy Stare is a great gift for the sharpest dressers. The Winter Hat is designed for those who value comfort above all else.
The Card of Winter deals Water damage when attacking and can be inserted to a Weapon.
Snowballs are lumps of snow that you can hurl at your friends and enemies. It's fun, cold, and wet!
Festive Treats: Holiday Cake and Herbal Tea.
Also during the festival you will be able to obtain the Winter Garment - an amazing seasonal suit!
The suit is collected from 100 Frosty Rags.
You can get Frosty Rag for some of the event quests and from Winter Festival Box.
What else the Snow Festival offers you to enjoy:
· 53 theme-based quests
· Amusement rides at the Snow Island
· The festival Beast Show needs your help
· Pick and use special event resources: dropped by monsters and mined from ore deposits
· You can create event items for various purposes, including quest ones (Help Innkeepers)
· Christmas Trees in Elgore, the Dancing Forest, Crockos, and Aloha
· Event-related achievements
· New Year's Forfeits, surprise quests
Premium Store will offer you the following festive goods:
· Winter Hat Headgear (slotted)
· Snow Crock Mount
· Winter Festival Box with extra Frosty Rag and other pleasant goodies
· Medium Winter Festival Box - you can find a new pet there - cute Blizzie!
· Winter Magic Set - a festive set to treat yourself with during the Winter Festival
Also, everybody will get our gift to contribute to the festive spirit.
Rates X3 on the Experience bonus of the Premium Account Holders - starting from now and up to the very end of the Snow Festival!
Festive promo code gift!
RQLA-1BSNP-4IXDM-EJ12M-SQ3
The gift includes:
Royal Blessing x7

Gift Box x10

Small Snow Festival Box x10

Snowballs x10

Snow Fireworks x10
All items are bound to account.
Mind that you should have at least 31 level character on your account to redeem the code.
Redeem the promo code at the main page of our website => My Account: https://us.royalquest.com/account/
If you are not registered at our website, just log in at the main page the same way you log in the game: via Steam, Facebook or Google+ - and go to My Account page.
After you redeem the code all items will be transferred to the golden chest in your Character Selection Window.
The promo code will be valid until January 31 - so make sure to redeem it in time!
Have fun at the holidays! Merry Christmas and Happy New Year!
Edited by Talestra (Elgore), 20 December 2019 - 08:23 AM.